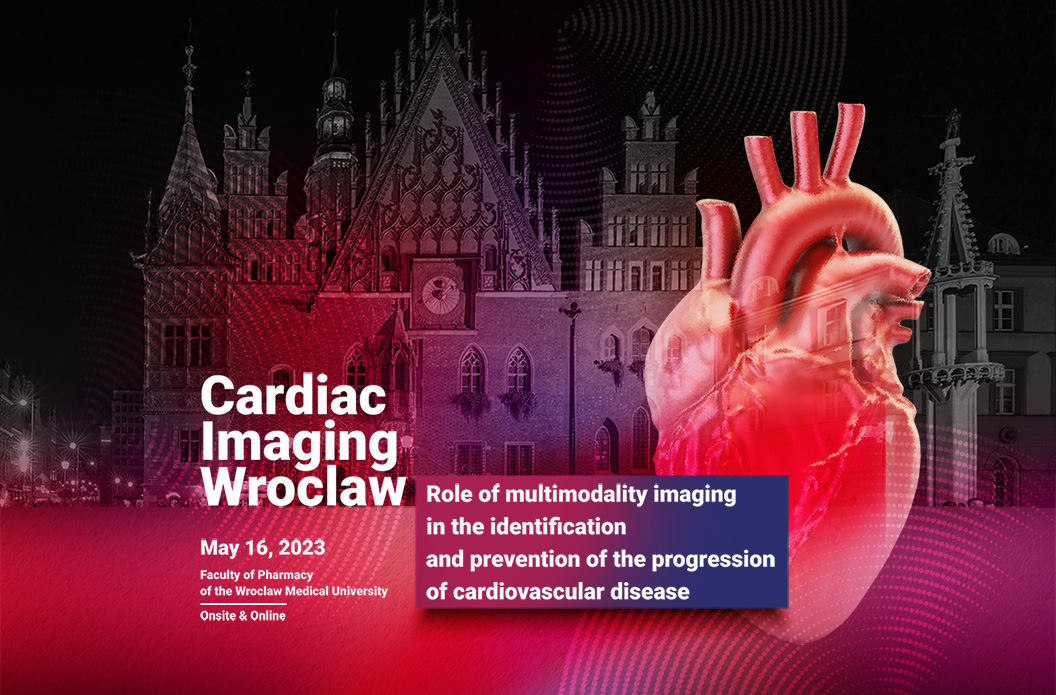 Cardiac Imaging Wrocław 2023
Dear Colleagues,
Multimodality imaging of the cardiovascular system has become a clinical standard, providing the information necessary for proper diagnosis and optimal treatment of patients. The creation of specific diagnostic algorithms based on the complementarity of various imaging techniques comprehensively extends the knowledge about the patients and their disease. Echocardiography, cardiac magnetic resonance imaging, cardiac computed tomography and nuclear techniques have their place and application in the diagnostic armamentarium, and complement each other.
The current need is efficient exchange of information and teamwork between specialists in cardiology and radiology, competent in various imaging techniques. Furthermore, the need for training modern cardiovascular imaging experts, with knowledge of multiple modalities is becoming progressively apparent. The appropriate response to this need has been to extend the focus of cardiovascular imaging associations, as well as the spectrum of topics of cardiac imaging congresses and meetings. Accordingly, we invite you to participate in a unique conference integrating echocardiography, cardiac magnetic resonance and cardiac computed tomography.
In the first iteration of this event, we want to address the role and significance of multimodality imaging in the identification and prevention of the progression of cardiovascular disease. Our aim is to provide the opportunity to deepen knowledge and exchange experiences in cardiovascular imaging, irrespective of the level of professional and scientific competence. The meeting will be held in a hybrid format, however most of the speakers will deliver their lectures on-site. The faculty will be world-class experts, luminaries in the field of cardiology and imaging, which gives the conference exceptional prestige and rank.
We cordially invite you to Wroclaw on May 16, 2023 in person or online. You will not be disappointed!
Prof. Wojciech Kosmala
Scientific and Organizing Committee Chair
Scientific Committee
Prof. Wojciech Kosmala, Wroclaw, Poland
Prof. Thomas Marwick, Melbourne, Australia
Prof. Frank Flachskampf, Uppsala, Sweden
Prof. Erwan Donal, Rennes, France
Prof. Robert Manka, Zurich, Switzerland
Prof. Piotr Ponikowski, Wroclaw, Poland
Organizing Committee
Prof. dr hab. Wojciech Kosmala – Chairman
Prof. dr hab. Monika Przewłocka-Kosmala
Dr hab. Marta Obremska
Dr hab. Anna Goździk
Dr hab. Tomasz Witkowski
mgr Aleksandra Erbert
mgr Aneta Kurek
mgr Adrian Szulczyński
mgr Piotr Paluszyński
The conference is organized by the Institute of Heart Diseases under the auspices of the Rector of Wrocław Medical University
Conference venue
Faculty of Pharmacy of the Medical University
Borowska 211 St.
50-556 Wroclaw